Men's Leather Messenger Bags
Leather Messenger Bags For Men
There is a wide variety of accessories for both men and women in the market; people always need clarification on so many options. However, when it comes to buying something that's both functional and fashion-forward, leather messenger bags are the best pick. A sophisticated-looking leather messenger bag in the UK exudes class, and Obi Pelle UK makes this dream achievable for you. Our leather messenger bags for men are designed to give you a simple and mature look while also providing the utmost functionality.
Obi Pelle UK only deals in handcrafted leather products, so the material ages like fine wine and gives value for your money. Our artisans are highly skilled and can create magnificent leather messenger bags that stay with you for decades. They are your everyday partner, and you can carry them out with class and confidence. Made with premium quality leather, our Leather laptop messenger bag is perfect for men who want to up their fashion game. You can also detach or attach the shoulder strap to carry the bag whichever way you want.
Leather Messenger Bags For Men Online
Online shopping has become the norm now, but it can be daunting to shop for such an expensive leather piece online. You might find it hard to trust online retailers, but you don't need to worry about it while shopping from Obi Pelle UK. We aim to provide the best leather experience to our customers and gain their loyalty by providing them with the highest-quality leather messenger bags for men at affordable prices. We create men's leather messenger bags in the UK, and the trust of our customers is our biggest asset.
Consider These Before Buying Men's Leather Messenger Bags in the UK
Shopping for a leather bag is not easy, and it becomes harder when you are aiming to shop online. The chances of a scam get higher, and we don't want our valued customers to face any such misfortune. Before making an online purchase for a crossbody leather messenger bag, it is important to look out for a few things so you can ensure that you get the best possible product in your budget.
Obi Pelle UK has made this guide to help you get the best leather experience.
It is important to know that there are different types of leather, and each type has a different standard of quality. Full-grain and top-grain leather are the two highest-quality types of leather. Bonded leather is comparatively cheaper, and a lower quality type and faux leather are not made from original leather. Obi Pelle only deals with high-quality mens leather messenger bags in the UK so that it can last a long time.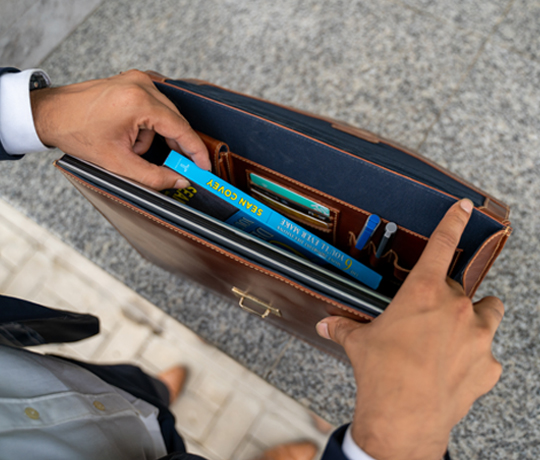 A crossbody messenger bag comes in different sizes; you might want yours for a specific reason. Identifying your use and purchasing a bag fit for it is essential. You can ask the retailer about the size of the bag to make sure that you don't buy something that's not fit for your use. Our leather laptop messenger bag is perfect to carry your laptop and everyday essentials in the right space.
3. Crossbody Messenger Bag
You can also carry our men's leather messenger bags as crossbody bags with their detachable strap, the design allows you to carry them with ease and elegance. You can also customise your messenger bag in the UK to get the leather goods of your choice. Our artisans are experts with years of experience of making leather messenger bags for men. You can put your trust in Obi Pelle for the best leather experience.
Obi Pelle UK is a trusted brand in the leather industry. We have been working hard to maintain the relationship of trust between our brand and customers, and we have been successful thus far. Our artisans are more than ready to bring your dream bag to life. You need to share your vision with us, and we will ensure that you get your leather messenger bag at your doorstep. We constantly work on our craftsmanship to make sure that our creativity keeps evolving with our customers' choices. We take pride in saying that Obi Pelle UK has served its customers with nothing but the best, and we promise to continue the same efforts.